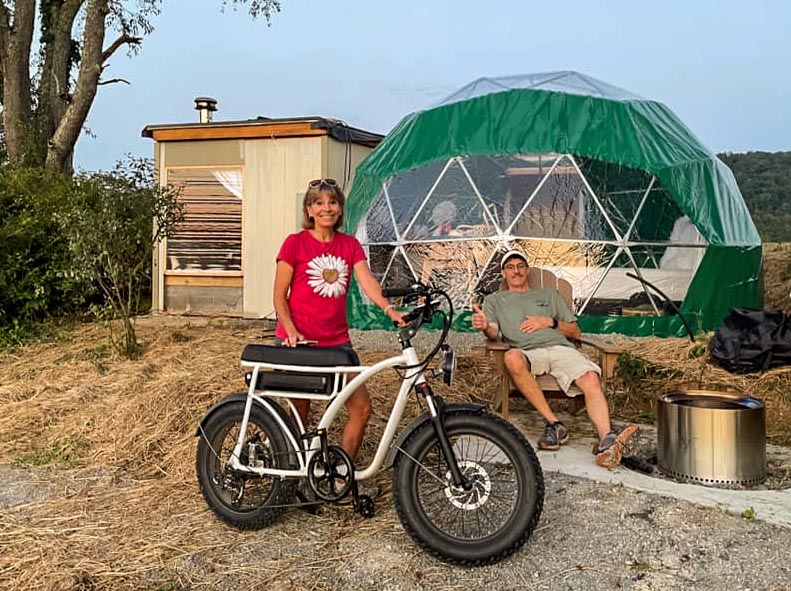 Select Check-in date for the date you want your rental to start, and select check-out for the date you want your rental to end. (leave adults/children as it is) IF YOU WANT TO RENT MORE THAN ONE EBIKE (select the "Add-Another E-bike to my reservation" option on the following screens.)
If you only see a pink square above (and no calendar), wait for the calendar to load. (if calendar hasn't loaded after 30 secs, refresh the page.)
IF YOU WANT TO RENT MORE THAN ONE EBIKE (select the "Add-Another E-bike to my reservation" option on the following screens.)
Features/Requirements
Top Speed of approx 20mph.
Helmets required (provided at no cost)
Riders must be tall enough to touch the ground when astride the bike.
Under 18 must be supervised by a legal guardian.
Riders must not lock up the brakes causing the tires to "skid" or you will be charged a tire fee of $25 in addition to your rental.
All riders must watch a short video on how to safely operate the e-bikes.
Rental is from as early as 3pm, til no later than 11 am on the following day. If e-bikes are not returned to the designated area by 11 am, an additional day rental may apply.
Riders are responsible for cosmetic or mechanical damages to the bikes.
Weight limit 220#
Bikes may not be placed in or on your vehicle or taken/ridden off-site for any reason.
By reserving an e-bike, you are agreeing that you and anyone in your party whom you allow to ride the e-bike, do so at each persons own risk. You agree to defend, indemnify and/or hold harmless Spiros LLC, its owners, landlord, and assigns. Rentals are available from as early as 3pm, and must be returned no later than 11 am the following day. You agree any additional charges can be billed to the card on file.

*Bike Colors will vary.